FCB/FCC cable connection board
Prototyping board for LCD display interfaces with FCB/FCC connectors.
0.3 - 0.5 mm pad pitch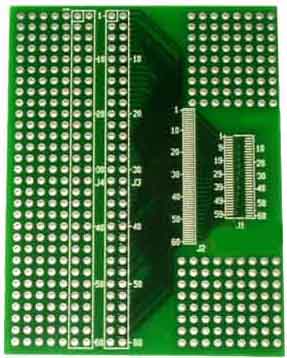 FEATURES
Easy conversion between FCC/FCB cables and standard ribbon cables.
Pads for mounting of FCC/FCB SMD connectors:


0.5 mm FCC/FCB connectors: 0.5 mm pad pitch, up to 60 poles.




0.3 mm FCC/FCB connectors: 0.6 mm pad pitch x 2 (0.3 mm pad offset) up to 60 poles.

Parallel connection with two 60-pole standard ribbon cable connectors.
Large hole-area for additional connectors. Can be used as strap area between connectors. Ideal for converting between different signal sequences in cables.
Can be used as interface board for the IOTester target connector.

Two extra small hole-areas for prototype components, for instance for mounting of LCD-related components: contrast regulation pot-meters, capacitors for LCD step-up converters, resistor ladders for LCD voltage generation, extra power supplies, etc.
PCB size: 60 x 79 mm.