RAMTEX Engineering ApS offer customized solutions. A customized solution is typically an extention to RAMTEX standard products, or implemention of a new special display controller driver. RAMTEX also helps with the integration of a Graphic Display driver into your own embedded system.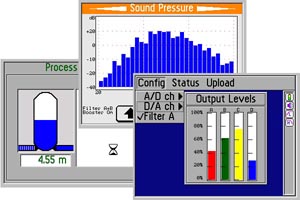 Improving your products
RAMTEX participates as a sub contractor. This is typically by delivering software parts to embedded systems or delivering consultancy in the design phase or solving problems in existing systems.
Use RAMTEX as technological advisor and developer when upgrading products or making solutions for specific Customers. We add new communication interfaces and upgrade user interfaces to existing products.
Take advantage of the specialized GPIO HAL layer driver knowledge at RAMTEX to get the full performance from your CPU system - without the overhead of generalized demo software packages.
During the years RAMTEX has gained a great experience to solve impossible software and hardware faults in third party systems. This also enables us to design mission critical systems.
Complete solutions
RAMTEX delivers and maintains complete solutions for a number of customers. We design for long term usage, having 20+ year designs in production and make updates on some 10+ year designs.
RAMTEX designs complete CPU system boards for embedded use. Also demo or production PC applications are made, that interface to the embedded systems, typically by internet or USB.
Our designs include kernel layer code, peripheral drivers, sensor interfaces, system management, communication protocols, instrument control, data management and multi language user interfaces.
Our deliveries include the full source code.