IconEdit - Free Symbol and Font editor
IconEdit is a pixel based font editor, also known as a raster font editor or a bitmap font editor.
IconEdit saves C-source in black and white, gray tone, anti-alias, full color, or semi-transparent.
IconEdit can save pixel based characters and symbols in Project files or as C-source files.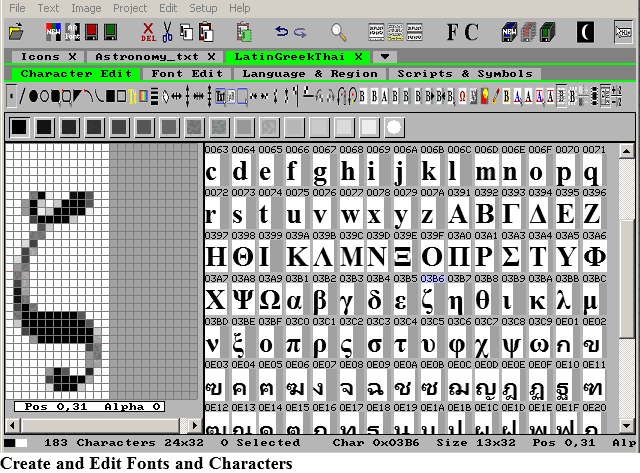 No installation on your PC: Just fetch and unpack the zip file and you are ready to go.

Download the full IconEdit package as a zip file.
Save time - Start working before you buy a license
Save all fonts and symbols in an IconEdit project file. Later convert the project file to C-source code.


Start projects without a license
All symbol, font, and text string formats can be saved in one project file:
A project in one file gives an improved overview and easy back-up.
Later convert the project file to individual C-source code files by IconEdit with a license.


Use project mode with many users and only one license
A work group need only one license.
Internal and external designers work without a license
One central work group member collects all the projects and convert them to c-source code with a licensed version of IconEdit:

Advantages of project files:
All users have the full graphic, text, and font handling functionality of IconEdit.
All fonts, symbols, and texts for a design collected in one file.
A design in one file gives an improved overview and easy exchange between internal and external co-workers and, of course, back-up.
One user has a license and can save C-source code for use by the compiler from the project files.
All other users save and exchange data in the license-free project file format.


Free test of the graphic abilities without a license
Standard file formats are license-free:
Free graphic editor can save images as .BMP, .PNG, and .JPG files.
Free icon editor can save Windows icons as .ICO files.
Free BDF font editor can save B&W fonts as Glyph Bitmap Distribution Format .BDF files.



IconEdit font and symbol editor home