IconEdit - Icon and Font editor
Create Icons and Fonts for use with embedded processor applications.
Design logos, buttons, icons and fonts for Dot Matrix LCD, OLED, and TFT displays.
Save as C source code for use with RAMTEX display driver libraries.
Graphic Image and symbols

See and edit icons and fonts with exactly the same pixel and color resolution as used by the real display module in the target system.
IconEdit provides extensive graphic drawing facilities for easy creation and editing of icons, buttons, etc.
Use import of existing bit-map pictures (*.bmp, *.png, *.jpg). Convert to the same pixel color resolution as used by the display and display controller types.
Easy change of color resolution. Converting between RGB, Grey-level, and B&W pixel colors.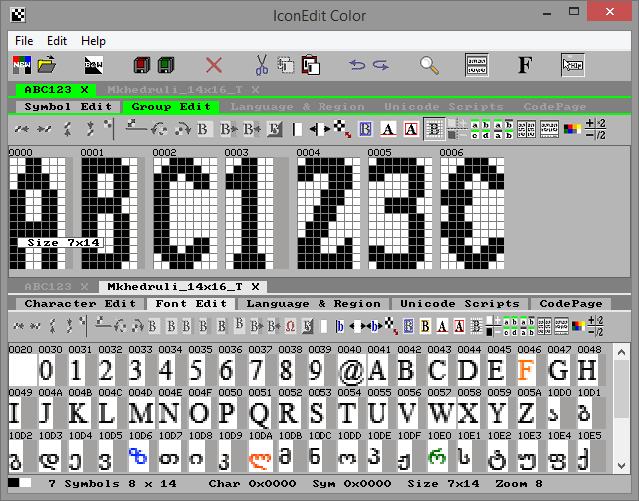 Fonts and International language codepages
Support for Unicode and ISO codepages.
Extensive support for editing and manipulation of international fonts and national font codepages.
During font creation and editing, just select the code page ranges (languages) needed and see the character symbols that are needed, the character symbols that already exist in a your font, and the character symbols you will have to add.
Support for and conversion between 16 bit Unicode and classic 8 bit DOS,ISO8859, KOI8 and Windows codepages.
Use existing True-Type (PC) fonts or BDF fonts as inspiration for new bit-mapped fonts. Existing True-Type fonts or BDF fonts can be automatically converted to bitmapped fonts for easy use with embedded systems.
Support for font conversion to the pixel resolution most optimal for a specific display module or embedded application, e.g. 8, 4, 2-bit grey-level (anti-aliased) symbols or B&W symbols.
Create proportional fonts or mono-spaced fonts. Easy conversion between the two types.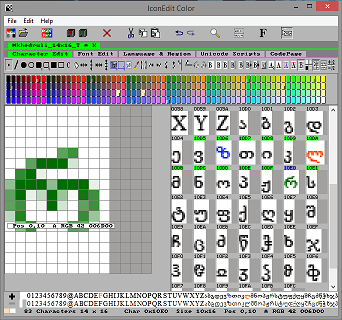 Font codepage maintenance
Delete or add font character symbols without damaging codepage lookup. IconEdit automatically keeps font symbol tables and font codepage lookup tables synchronized.
Multiple fonts can be opened at the same time. which makes it easy to copy of groups of font symbols from one font to another.
Automatic codepage checking and maintenance. Issues warnings if an operation risks overwriting existing font symbols.
Creating ROM optimized fonts
If your application uses fonts with very large character symbols, or fonts with a very large number of characters (e.g. Chinese, Japanese, or Korean national fonts) then a huge ROM saving can typically be achieved by removing font symbols not actively used by the given embedded application.
IconEdit makes this simple to create and maintain small application specific fonts from a master font. Just import a text file with all the translated text strings, as a "filter" to mark those symbols which are actually needed by your specific application.
Then simply delete those character symbols marked as not-used, add those character symbols marked as missing, and save the ROM optimized application specific font.
Support for use of color palettes
Support for color mapping / conversion of symbol pixel colors to palette table indexes.
Palettes can be used as working tools for an efficient way to maintain a uniform color "look" over time across multiple symbols and fonts.
Use of a palette is ideal for ROM memory optimization of simple RGB symbols or with display controllers that provide palette hardware support.
C source code
The output from IconEdit is saved as C source code (tables and structures). This can be directly compiled-in with an embedded application.
Can be directly used with RAMTEX Virtual fonts for easy storage in external data memory, for instance, e.g. a serial flash chip.
Create, load, and save color palettes as C source (tables). Either as stand-alone working palettes or as part of a palette-based font.
Import and convert BMP, PNG or JPG pictures. Edit and size to fit your embedded application. Draw text and graphic directly on image. Save images as C source code. Ideal for buttons with special effects.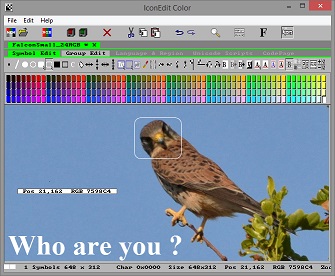 Source code portability
All RAMTEX Color display controller driver libraries and B&W display controller driver libraries support the same basic symbol and font source code format. This makes your application font and symbols portable across display controller types and target hardware.
B&W (two color) symbols can be used with both B&W and color display driver libraries.
Grey-level symbols (anti-aliased fonts) can be used with all Color display driver libraries (RGB + Grey-level).
RGB symbols can be used with RGB libraries, or be automatically converted for use with Grey-level libraries.
Try it - Download IconEdit 7
The zip file includes the full IconEdit product, including examples and pdf manuals. IconEdit runs in Color or B&W Demo Mode until a valid license number has been entered. (Product version: 7.7.07)
Download Icon Edit
All IconEdit features are available in Demo Mode, EXCEPT that C source code can not be generated. Design results created in Demo Mode can still be saved in an IconEdit project file, so you may use Demo Mode to get started. After a valid license key is entered the font and symbols in IconEdit project file can be saved as C source for use in a GUI compilation project.
Download the IconEdit Quick Guide pdf manual only.
The manual is common for IconEdit B&W and IconEdit Color licenses. This manual is included in the IconEdit zip file download above.
IconEdit Color - IconEdit B&W
IconEdit can be purchased in two versions. The Black and White version has a reduced feature set optimized for use with B&W library products.
IconEdit B&W license
All Graphic editing features for B&W
All language and codepage features
Full B&W symbol support
B&W image import
IconEdit Color license
All Graphic editing features
All language and code page features
Full B&W symbol support
Full Grey symbol support

8, 4, 2 bits-per-pixel Grey symbols
8, 4, 2 bits-per-pixel Grey - level
(anti-aliasing, or semi transperance)
8, 4, 2 bits-per-pixel Grey palette symbols

Full RGB symbol support

24, 16, 8 bits-per-pixel RGB symbols
8, 4, 2 bits-per-pixel Grey - level
(anti-aliasing, or semi transperance)
8, 4, 2 bits-per-pixel RGB palette symbols
32 bits-per-pixel symbols (alpha semi-transperance)

Palette view as symbol palette or working palette
Conversion between color formats
Color and B&W image import